Standing The Test Of Time In Kenosha
For 100 years, Paielli's has been a staple in Kenosha. Its fresh-baked bread and donuts have delighted generations. We are so grateful to this loving community for supporting us since 1923.
We invite you to join us January 14th, 2023 from 7 am. to 4 pm. to celebrate our 100th anniversary. Our first 100 customers on Saturday will receive special 100-year commemorative cookies!  There will be photos, specials and gifts handed out to our fans.  We are also excited to feature three classic items sold at 1923 prices!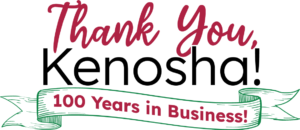 "We want to make sure that Kenosha customers get taken care of…That's what we've been doing for 100 years."

-Dave Paielli
More About Paielli's Bakery
Sante and Matilda Paielli began serving Kenosha on 22nd Avenue with five employees. They later relocated to 52nd Street. The family business continued to grow and in 1956 they moved to their present location on 39th Avenue. This 20,000 square foot facility has progressed through three extensive expansions to serve the Southeast corner of Wisconsin and the Northeast corner of Illinois. Our products are used in restaurants, hospitals, nursing homes, schools, caterers, sub and deli shops, bars and grills, grocers and special events.